Pour Yourself a Drink Using a Bar Gun Soda Dispenser
Home Soda Dispensers Bar Gun Remote Systems IC
Our IC model is our basic home soda dispenser and refrigeration unit. This soda dispenser works perfectly for under cabinet applications and is installed no more than six feet away from the location of the soda bar gun. This soda dispenser unit is ideal for your kitchen, wet bar, game room, entertainment room and outdoor patios.

Home Soda Bar Dispenser IC:
You always wanted a "Real" restaurant-type soda dispenser at home. We sell and ship hundreds of these home soda dispenser units everyday. Built with over 50 years of quality soda dispenser manufacturing experience, all our soda dispenser units are fully tested prior to shipping to ensure proper operation upon delivery. Our home soda dispenser works with the latest and most advanced Bag-In-Box soda syrup, the same soda syrup used restaurants, bars, and fast food establishments. Our home soda dispenser system uses a standard five pound CO2 tank which can be filled at any local carbonic supply store and comes to you complete with no other components to purchase.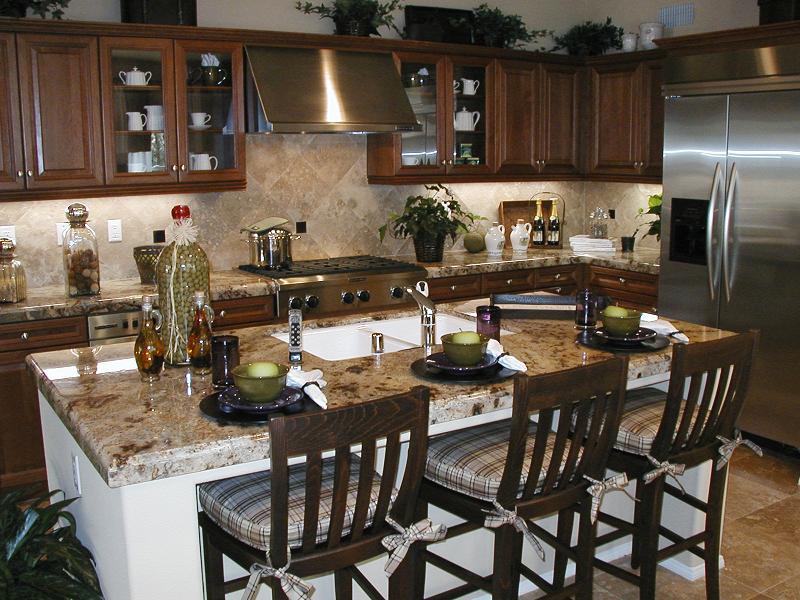 Commercial Soda Dispenser Quality:
Our home soda refrigeration units and dispensers are made of the highest quality components, parts and design to ensure you many years of use. These soda dispenser systems are designed to save you money on your soda purchases and give you the highest quality tasting soda possible. The home soda dispenser system comes complete with everything you need: self-contained soda syrup refrigeration unit with carbonator, Wunder Bar soda gun, Catalina five pound CO2 tank, Flojet soda syrup pumps, quick connects for Pepsi and Coke Bag-In-Box soda syrup products, syrup brix cup, soda syrup separator, high and low pressure CO2 regulator and supply lines.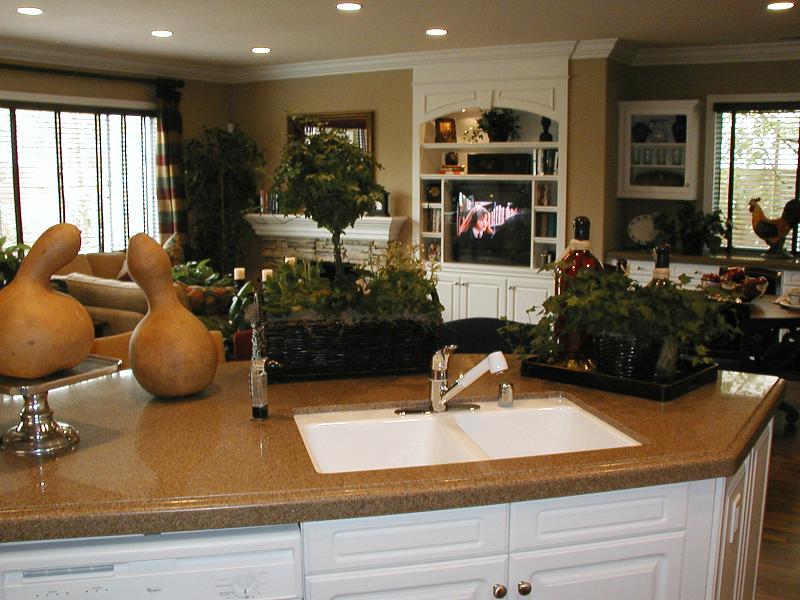 Part #
Description
Price
Purchase
SDFFBGS4IC
4-Carbonated
1-Soda Water
1-Water
Soda Dispenser Four Flavor Bar Gun System
$2,899.99
Shipping Cost $250.99
SDSFBGS6IC
6-Carbonated
1-Soda Water
1-Water
Soda Dispenser Six Flavor Bar Gun System
$3,199.99
Shipping Cost $275.99
BGCTK
Bar Gun Countertop Trim Kit
$89.99
01F05-103
Catalina 5 lb. CO2 Aluminum Tank
$119.99
WCK3YX62
Water Connection Kit
$19.99
09A01-203
Water Filter System
$89.99
15B09-201
Bag 'N Box Syrup Racks
$239.99-$359.99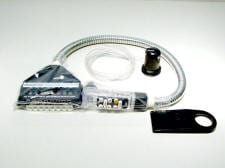 Wunder Bar Gun:
If you want a "Real" bar gun, the same unit used in commercial locations, then this is the unit for you. Our design puts the power pack below the bar and runs an insulated duct line to the bar gun with re-circulating ice cold water to dispense your favorite soda ice cold. Our four or six flavor bar guns can dispense carbonated or non-carbonated drinks, along with one soda water and one water button.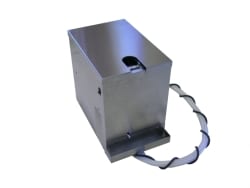 Soda Dispenser Refrigeration Unit:
Our SDFBGSIC stainless steel model is our home soda refrigeration unit perfect for under cabinet application. This unit must be installed no more than six feet away from the location of the bar gun and is ideal for your kitchen or wet bar use.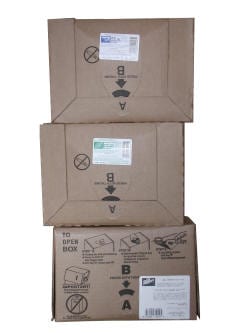 Facts on syrup:
Most syrup is mixed in a 5 to 1 ratio (this means 5 parts soda water to 1 part syrup). One gallon of syrup will make 6 gallons of finished product. The Bag In Box syrup is sold in 3 gallon or 5 gallon containers, and will produce 30 gallons of ice cold soda at the cost of 6 to 14 cents per 12 ounce drink.
The installation of this system will take about two hours and can be installed with the bar gun through the countertop using the countertop trim kit, or the included hanging Wunder Bar bracket.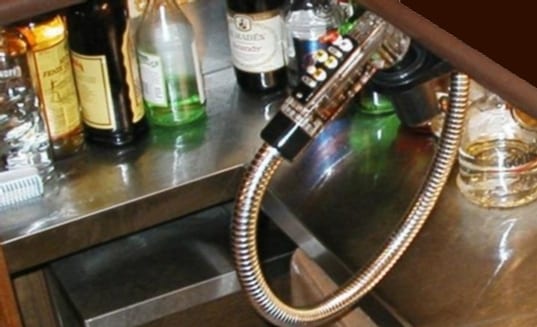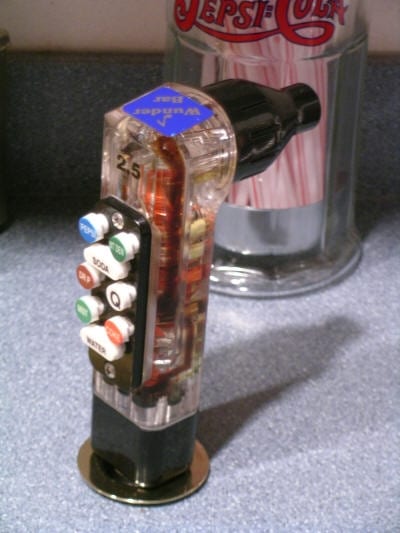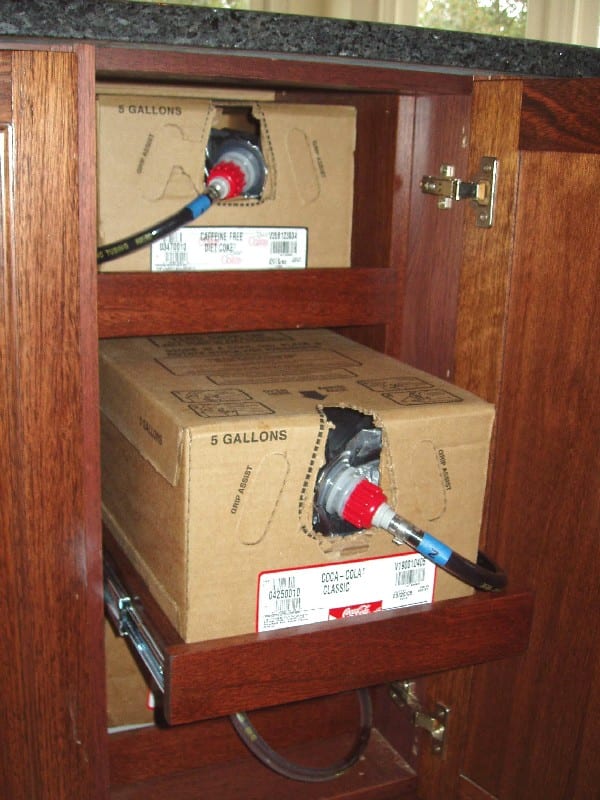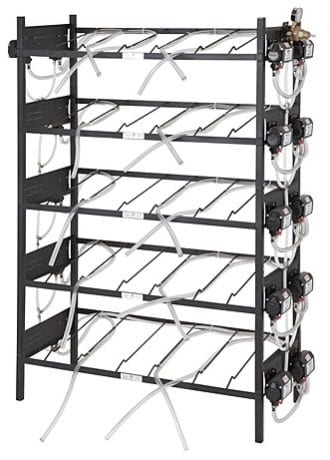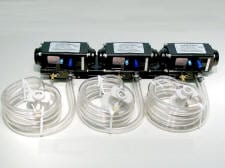 Flojet Syrup Pumps:
Our syrup pumps are mounted on a metal bracket in groups of two or three depending on the bar gun system you order. We also supply our pumps with quick connects for Pepsi and Coke bag-n-box products.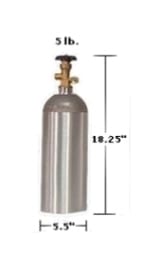 Catalina CO2 Cylinder:
Our system will include one five pound Catalina CO2 cylinder.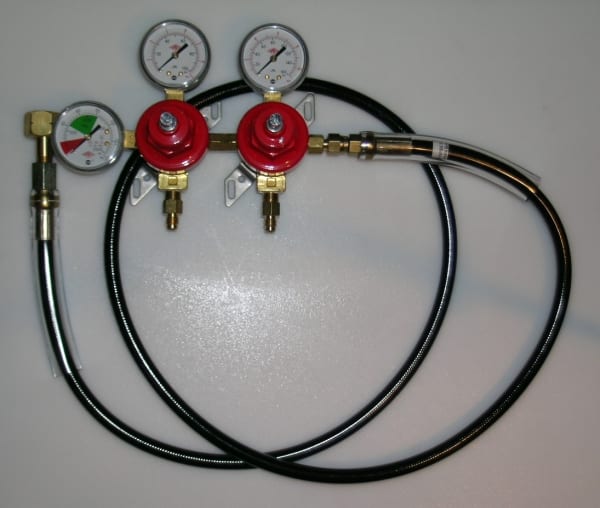 Tap-Rite CO2/Syrup Regulator:
Our system will include one two pressure two product regulator with 6' hose.
Easily installed with basic tools.
Description
Measurements
Weight
Voltage
Refrigeration Unit
Length 17 1/2"
Width 11 3/4"
Height 16 1/2"
137 lbs.
120
Syrup Pump
Four Flavor System
Height 9"
Width 17"
Depth 8"
8 lbs.
Syrup Pump
Six Flavor System
Height 9"
Width 25"
Depth 8"
12 lbs.
All
Soda Dispenser IC
Soda Dispenser Components IC
Soda Dispenser Components IC
Soda Dispenser Layouts